When we think about premium T-shirts with fine and appealing embroidery, different types of embroidery machines come to our minds. However, not everyone knows those machines which work best for T-shirt embroidery. If you are also one of those looking to start the embroidered shirts business, this blog is for you.
You don't need to research further. We are going to unlock the best 5 T-shirt embroidery machines that you need to take your business to the next level within a short time.
Best 6 T-Shirts Embroidery Machines
All the machines are made specifically for home-based use or the professional level. If you are dealing in a business, you can quickly complete your tasks with a good quality embroidery machine.
The following shirt embroidery machines are the best based on their quality and features.
1- Brother PE800 Embroidery machine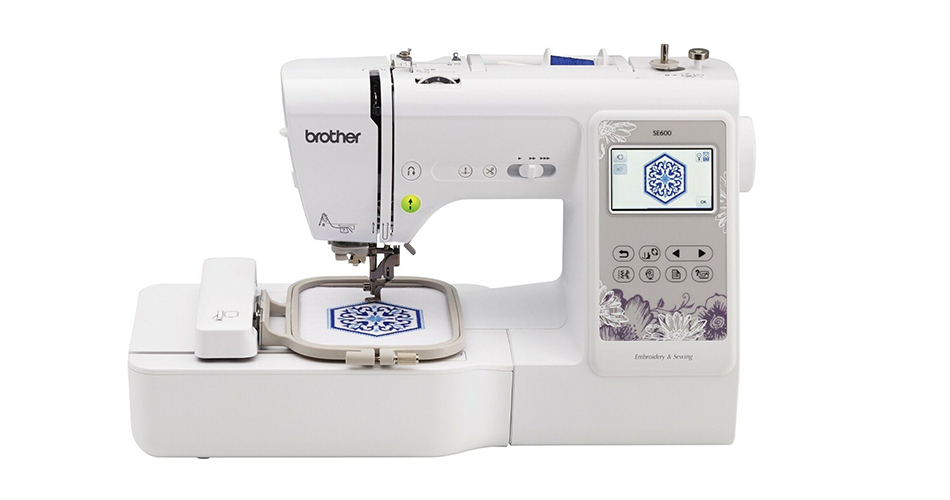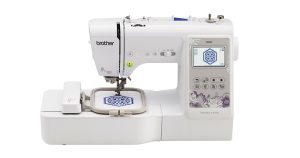 The Brother PE800 is an excellent shirt embroidery machine for experienced and beginner embroiderers. This machine keeps buyers purchasing due to its reliability. Although the machine is quite simple to use, it offers all the expected services from a t-shirt sewing machine.
Here are a few key characteristics that make it the best choice for the embroidery business.
Features
The Brother PE800 embroidery machine features a sizable 3.2-inch color LCD touchscreen and a spacious working surface.

The Brother PE800 embroidery machine provides exclusive access to the finest embroidery tools and online design options.

The PE800 contains 138 built-in embroidery designs. It includes ornamental stitching, floral, and patchwork patterns, giving you multiple options to let your creativity spark.

Seven English, three Japanese, and one Cyrillic font styles are appropriate for lettering.

You can use the 5-inch by 7-inch embroidery space to create fantastic embroidery patterns. The embroiderer can then view it on the large color touch screen.

It has an automatic needle threader.
The Brother PE800 is very simple to set up and operate. It stitches at a high speed of 650 stitches per minute. You can import embroidery designs into your computer's built-in memory using the PE800's USB port. The PE800 has LED lights to prevent you from avoiding dimly lit areas or late-night projects.
Pros 
The color display is a useful feature while previewing the design, and it is great for all your embroidery needs.

A built-in LED light illuminates your work area.
Cons 
It takes the same time for designs with several colors or just one color.

It is a machine which functions for embroidery only. This machine does not support stitching.
2- Janome 500E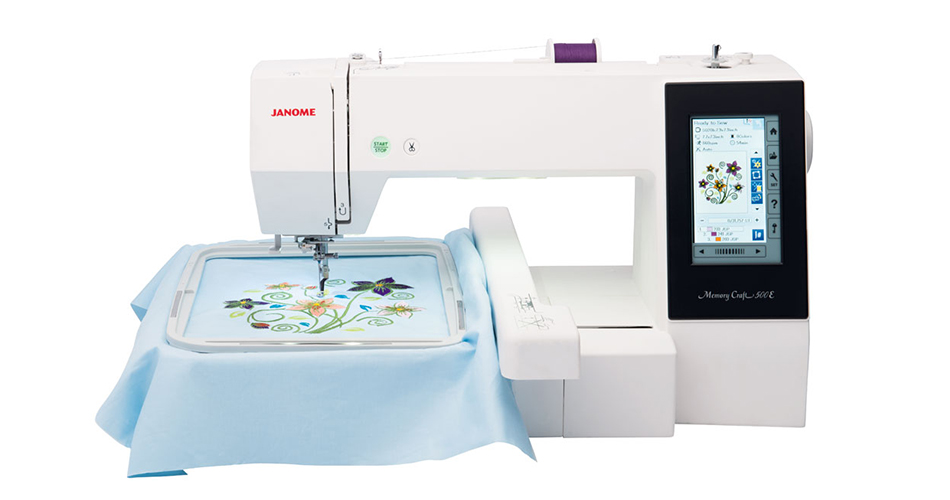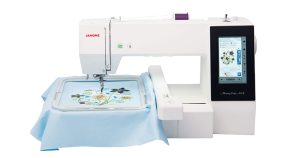 This machine has a silent operation mode to let you complete the work without making anyone else disturb. It functions best to provide a fast embroidery service. This machine also surprises its owner with its t-shirt embroidery machine's stitching quality.
Features
You can embroider large images on T-shirts and jacket backs due to its 7.9″ x 11″ stitching space.

This embroidery machine from a reputable manufacturer includes 160 pre-installed stitched designs and a choice of six fonts.

The machine has four hoops and a sizable, user-friendly LCD touchscreen that enables you to import embroidery designs (through a USB drive). You can edit the design directly on the device.

Janome machines are workhorses that get the job done.

This model has one of the largest embroidery areas available on the market, making it the ideal tool for customizing your blouses and t-shirts.

The maximum size embroidered on this machine is 7.9 by 11 inches.
Pros 
It can accommodate the large embroidery designs on the shirts.

It automatically returns after the breakage of the thread.
Cons
It only works for embroidery.

It is more pricey than the most-selling Brother PE800 embroidery machine. 
3- Brother SE1900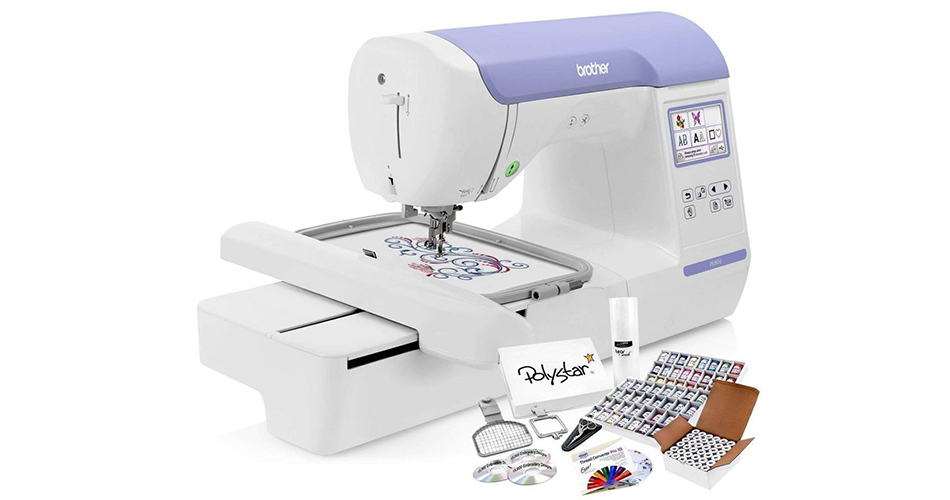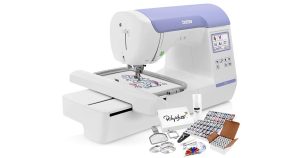 Undoubtedly, the Brothers SE1900 is an excellent embroidery and sewing machine. It is one of the best embroidery machine for shirts since it offers multiple operations at a high level of quality. It is a flexible and multi-functional machine that can carry out a variety of sewing and embroidery jobs.
Features
The "Brother SE1900" versatile shirt embroidery machine's key features are listed below:
A colored LCD panel with a 3.2-inch touch screen that is larger allows you to examine and edit your embroidery designs.

Built-in memory allows for the importing of embroidery designs.

240 built-in stitches

Built-in design of 138, 11 font styles.

5″ x 7″ field for embroidery so that users can embroider designs and letters on materials

The most versatile machine is the Brother SE1900, which is quite simple to handle and use.

It can support shirt stitching as well

Offers 650 stitches per minute speed for stitching

Eight feet to stitch

Combinational designs' capacity
Pros
The Brother SE1900 has a 25-year warranty

Can handle a variety of tasks

Functions for both sewing and embroidery

It is the most adaptable design among t-shirt stitching machines

Possess the largest working space and has eight feet for embroidery.
Cons
When compared to other machines, this is a bit costly.
4- Janome MB-4S Four-Needle Embroidery Machine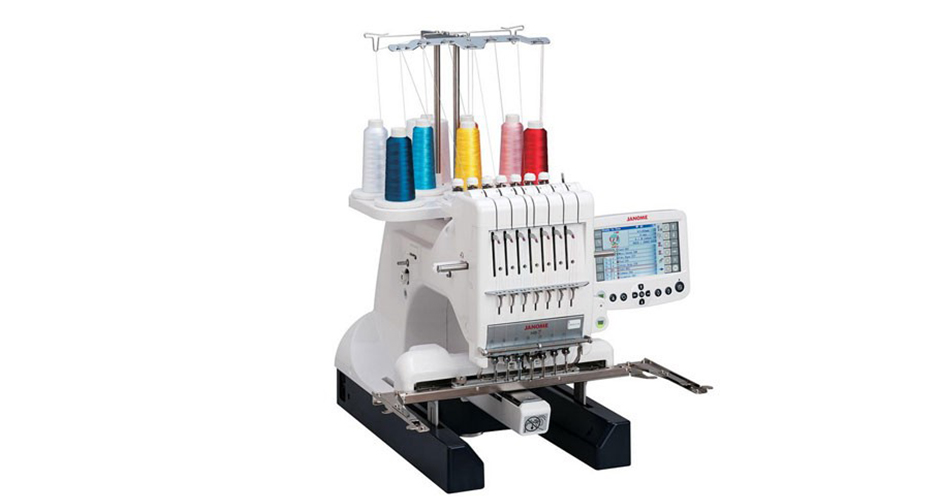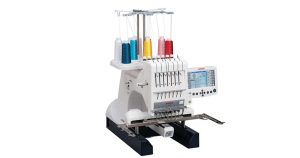 The Remote Computer Screen (RCS) on the Janome MB-4S gives users complete setup and editing control. This sophisticated t-shirt embroidery machine and screen editing features simplify last-minute changes. The stitch counters suggest the embroidery machine when to cut the thread, and embroidery area tracing prevents frequent bobbin changes. Also, the sensors on the upper thread and presser foot enhance the machine embroidery design's visual appearance.
Features 
Storage is crucial for any embroidery business, and the Janome MB-4S has an enormous 3MB that can hold up to 1,500,000 stitches or 100 designs.

An LED light provides a brilliant view of the workstation.

The Janome machines have 50 built-in designs, including ten monogramming fonts for stitching of 2 and 3 letters, and they can embroider at up to 800 speeds per minute.
Included with the Janome MB-4S is a supplementary kit. It consists of a hat hoop measuring 3.9 feet by 2.3 feet, a Janome lettering hoop holder set, a no. 7, and a J8 lettering hoop.

Additionally, it has a metal bobbin and embroidery needles.
Pros 
Four needles save time

Jump thread trimming, running while winding fresh bobbins designs, and auto return feature after the post-thread break

Simple to learn and utilize.
Cons
The cost is relatively high.

There is only a shirt embroidery option available 

There is no provision for adjusting the pressure on the foot.
5- Brother Personal (PRS 100) Single Needle Machine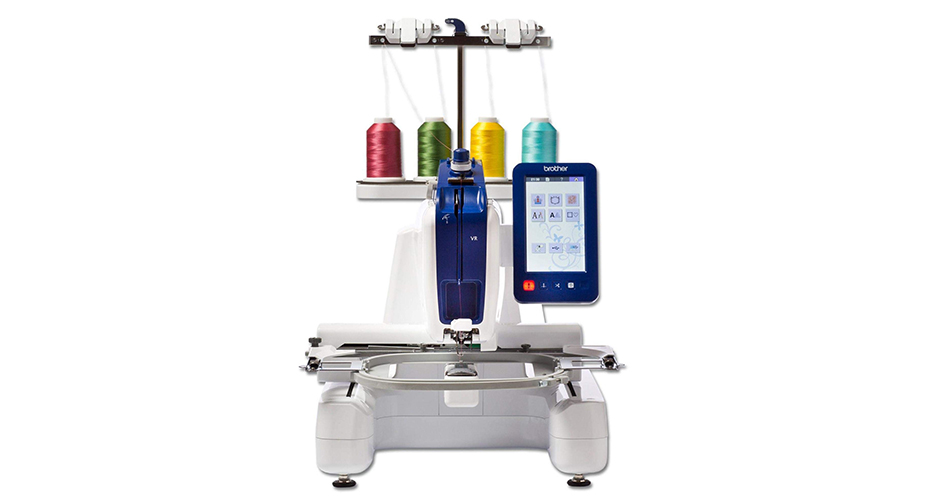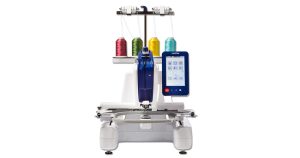 Everything a multi-needle embroidery machine could achieve, and probably even more, is possible with the single-needle PRS100 embroidery machine for T-shirts. It is a multi-needle embroidery machine. Brother is the industry leader in manufacturing multi-needle machines for premium quality embroidery.
Feature Principal
 A compact 18′′ wide footprint allows you to embroider more in less space with precision. Easy to Use 7 "LCD Display for studying on-screen instructions and conveniently altering designs utilizing the large, clear on-screen icons.
Twenty resizable fonts, frames, exquisite frames, six decorative alphabet styles, and 405 pre-designed layouts.

Large 8″ x 8″ embroidered space; comes with both 8″ x 8″ and 4″ x 4″ embroidery frames.

Allows 1,000 stitches per minute.

Stitch reading capacity: 500,000 per style, or 127 color changes.

20 different alphabet lettering fonts; 

Centering/Placement LED Pointer Light

Multi-line text advantages

Free-arm and single-needle embroidery machines simplify stitching in tight spaces like tops, sleeves, and bags.
Simple thread color switches, dual USB connections built-in, and a side-mounted bobbin winder let you design a new bobbin while the machine is embroidering. It possesses a 5-year warranty.
Pros 
A large size embroidery space can fit larger embroidery design patterns.

Automatic thread break recovery; outstanding stitch quality.
Cons
Only embroidery is possible.

The cost is more than the most popular Brother PE800.
6-Tajima Embroidery Machine
The Tajima embroidery machine is one of the famous and latest machines for embroidery. This Japanese machine has high performance and reliability, making it the embroiderers' first choice. The Tajima machine works perfectly for those who want to create innovative and elegant embroidery designs. It is available in single-head embroidery machines and multi-head embroidery machines. Depending on your operation need, you can purchase any type of Tajima embroidery machine. A single-head embroidery machine is for small operations, while a multi-head machine can handle medium to large embroidery tasks.
Feature Principle 
Tajima embroidery machines have cutting-edge technology, allowing for the speedy and accurate production of high-quality embroidery designs. Other key features are:
It offers accurate Needle Management. Additionally, the machines' stitch speed and tension settings may be changed.

Tajima embroidery machines include a user-friendly interface that makes them simple to use, even for individuals new to embroidery.

The machines also come with various editing tools that make it simple to change designs.

Can easily embroider up to 6 colors

It offers loop stitch and chain stitch embroidery. However, the latest models work best for chenille embroidery.  

Tajima Machine has a high speed of 750 rpm.

Installed embroidery digitizing software

Requires DST file format to embroider the digitized logo or design
Pros
Increased productivity is the most significant benefit of utilizing a Tajima embroidery machine.

The machines also come with a variety of editing tools that make it simple to change designs.

Tajima embroidery machines are the perfect choice for a wide range of tasks, from small-scale home-based companies to massive operations.

The ease of maintenance is a priority in the design of Tajima embroidery machines.

Tajima also offers a variety of support materials, such as user manuals, online tutorials, and customer assistance.
Cons
The color thread and bobbin thread on the embroidery machine causes problems.

It starts to stitch before giving up with error 291.
Final Verdict
These reviews of embroidery machines can assist you in selecting the best T-shirt embroidery machine. You can use any machine according to your budget. These machines work perfectly to provide smooth embroidery on the apparel. However, One Dollar Digitizing recommend investing in a high-quality machine if you have a higher budget. It is a one-time investment but will increase your revenue exponentially.