Have you ever seen beautiful attires with embroidery that catches the attention? You must have seen the applique embroidery in the market. However, if you do not know about the different embroidery types, you may be confused about whether it is patch or embroidery.
So, let's dive into the details of applique embroidery. It may seem the designs only, but it is not so. 
What Is Applique Embroidery?
Applique embroidery is one of the different types of embroidery for embroidering designs with the minimum number of stitches, thread, and time. Unlike other embroidery designs, it is cost effective and does not require a large number of stitches, even for a huge design. 
Rather it uses patches, and its outline is embroidered. Pasting the separate patch or fabric on the apparel and then embroidering its edges is applique embroidery. In simple words, embroidery patterns known as appliqués have tiny pieces of cloth joined and sewn inside them.
Here we are going to break down all the secret tips and tricks behind applique embroidery and how it is sewn.
What Advantages Do Applique Embroidery Designs Offer?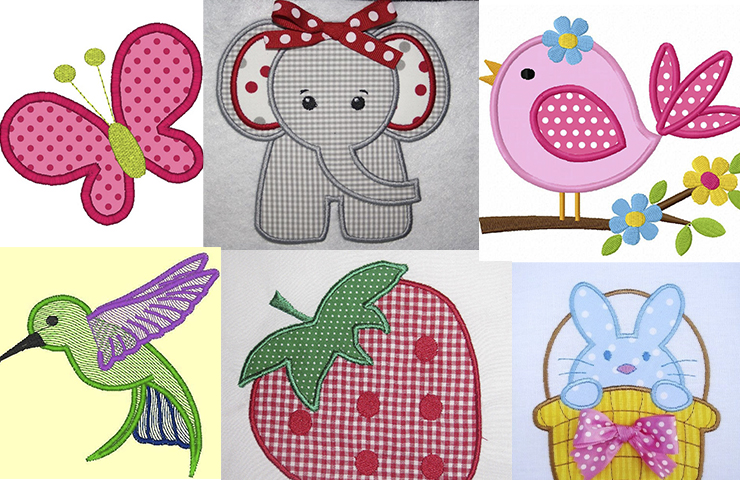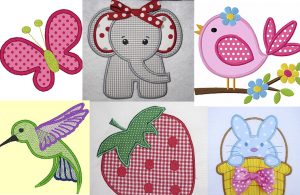 Designs for appliqué machine embroidery are enjoyable and beautiful. The applique patterns are so well-liked because they give the embroiderer a lot of freedom to customize a product by letting them choose the kind of fabric and pattern themselves. This is a plus point since small children like appliqué because of the distinctive feel of various fabric kinds.
Applique is a fantastic method to lower the stitch count in a design while still delivering stunning aesthetic effects in terms of embroidery digitizing. Your embroidery digitizing software's appliqué approach enables you to swap out significant fill sections for a simple cloth sheet. This results in shorter machine run times without compromising the design aesthetic!
How To Sew An Embroidery Applique Design
This guide will show you the proper method for placing and cutting the material required for appliqué embroidery patterns:
Step 1: Choose your favorite fabric and appliqué embroidery pattern. The stabilizer and fabric should be hooped.
Step 2: Begin stitching the pattern using your embroidery machine as usual. Make sure you stop the machine once the outline/marking stitch has been sewn.
Step 3: Cover the outline stitch with the material. A square should be large enough to enclose the stitch entirely. You have the choice of using painter's tape, several stabilizers made especially for appliqué placement or mild spray glue to paste the material/patch down.
Step 4: Re-insert the hoop into the machine and begin the tack-down stitch. Now stitch the required applique to the garment using the tack-down stitch, which will hold it in place.
Step 5:The tack-down stitch must be entirely cut around. You can use the applique scissors for cutting at this point. To avoid accidentally slicing through the cloth, use the recommended applique scissors.
Step 6: Reattach your hoop to the machine and continue sewing when you have done cutting out the pattern. You have finished the appliqué phase of the pattern, and it will continue to sew.
Step 7: When your machine has sewed, your appliqué embroidery pattern is finished!
Secret Tips And Tricks For Applique Embroidery Designs
If you're like most embroiderers, you love using your imagination to create projects but are aware that your machine is capable of so much more. However, you may lack confidence if you are not experimenting with your creativity. Perhaps you don't know that you can do this or are afraid to attempt new things, like incorporating appliqué into your designs. 
Regardless, you are not alone. This has been said a lot. You can contact any reputed embroidery digitizing company for the best digitizing for applique embroidery. They can help you estimate the correct number of stitches, machine run time, and other factors. Fortunately, at One Dollar Digitizing, our digitizers are expert enough to digitize the logo or design and let you know how it will look. So, if you are afraid of showing your creativity, or want the best embroidery digitizing service, contact us and complete your project within a few hours.
To Easily Customize Your Projects & Save Stitches, Use Applique Embroidery Designs  
After reading this simple lesson, you will better understand applique embroidery patterns and how to stitch them.
To enhance your needlework's visual appearance and excitement, try making an applique pattern from applique embroidery designs. Play with colors and fabrics to make applique embroidery fun and interesting.